Hi guys! I've been so excited to share this recipe with you! Not only is it vegan, gluten-free and like eating a magical rainbow, it's also a huge hit with the ENTIRE family. The secret is the sauce. I could dip my whole life in this sauce. It is AMAZING. Seriously, you will want to put it on everything.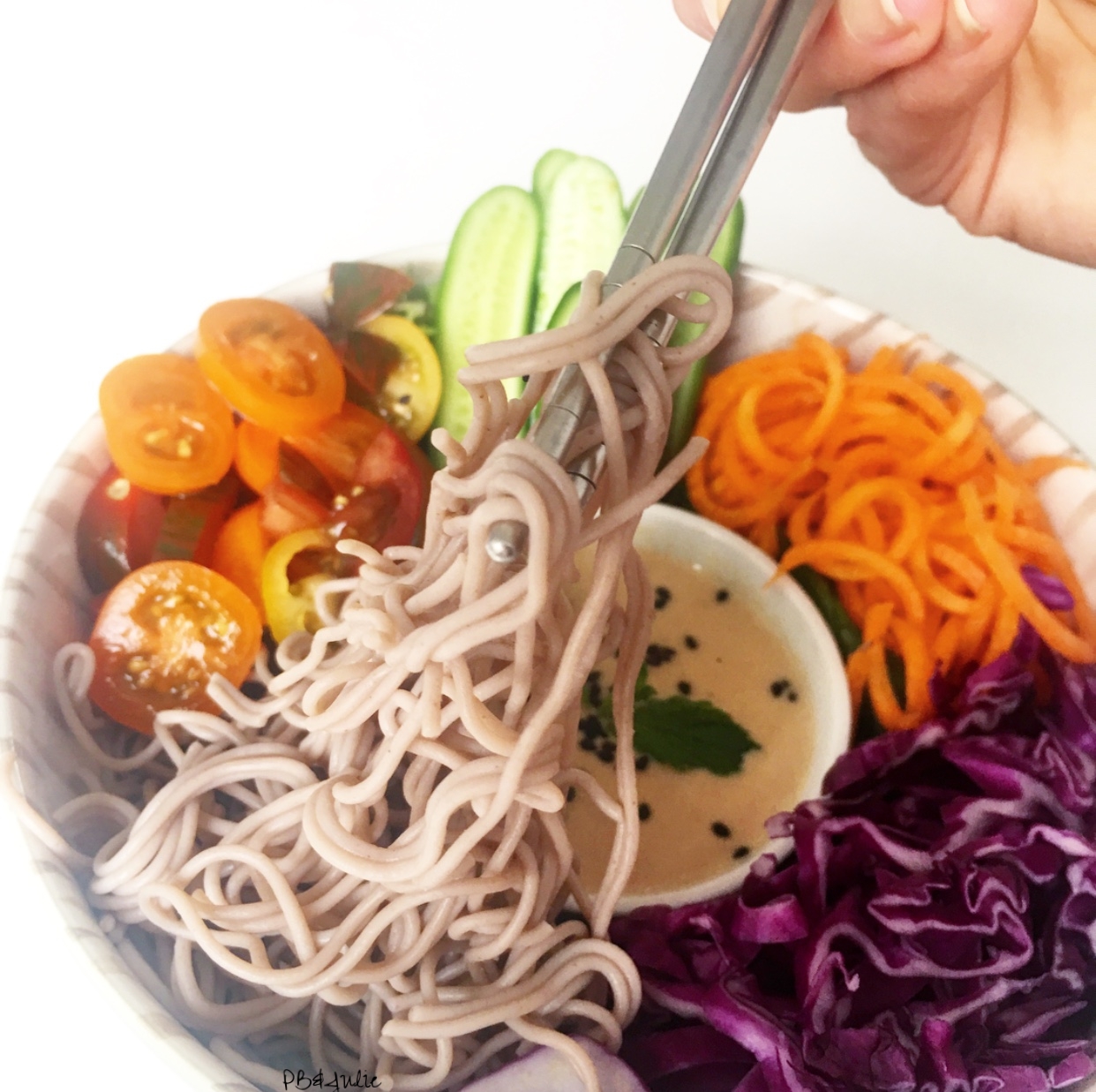 Asian-Style Sesame Noodles
The buckwheat noodles are also a hit. They're the "ramen-style" buckwheat noodles, so they're gluten free but just as noodle-y as a usual noodle. Feel free to add whatever veggies you have on hand to the bowl. In this one, I used a base of spring mix then added shredded red cabbage, spiralized carrots, sliced baby cucumbers and rough-chopped heirloom tomatoes. If you have avocado, definitely add it to the bowl. I would have, but I was out.
The bowl would be equally as delicious with snap peas, edamame and extra cashews for a crunch. Maybe even a touch of sriracha in the dressing — SPICEY! And, for a new meal, wrap up leftovers in a spring roll wrapper and tah-dah! Lunch tomorrow. You so fancy ;)
Let's go ahead and get making, shall we?
Vegan Asian-Style Sesame Noodles
serves 4
1 bag spring mix
8 baby cucumbers, sliced lengthwise
4 carrots, spiralized
1/4 head red cabbage, shredded
1 punnet cherry tomatoes, quartered
4 ramen-style buckwheat noodle cakes, buy here on Amazon
mint & cilantro, to garnish
Asian-Style Sesame Dressing
1 cup raw cashews, soaked 1 hour
1/2 cup rice vinegar
2 tbsp tamari or coconut aminos for a soy-free alternative
4 tsp sesame oil
1/2 tsp fresh ginger, grated
2 tbsp maple syrup
water to thin, as needed
black sesame seeds, to garnish
DIRECTIONS
Add dressing ingredients to a high-powered blender or food processor. I use my Vitamix (I have this one and highly recommend it!). Set to side.

Cook buckwheat noodles as directed.

Divide salad ingredients into four separate bowls.

Saturate in sesame dressing.

Top with herbs and sesame seeds. Enjoy!
As always, if you make this AMAZING recipe, please share your feedback in the comments below. Also, tag me at pb_n_julie on Instagram so I can see your creations!
This post contains affiliate links. I fully stand behind everything I link to in my posts and love sharing my favorites with you. This means I do get a small — and I mean, tiny — kickback if you purchase as well. But, I consider it my superfood fund, and you know how much I love my superfoods! Thanks for supporting my habit xx Julie